Crystal Chi
Dental Assistant Level II
Crystal joined the office in 2000, fresh out of George Brown College as a level II dental assistant. She has always been a keen individual. An enthusiast in dentistry, she also has the passion for the profession. In addition to her assisting hands-on, she is also co-ordinating all recommended treatments with patients. She presents Dr. Yuen's treatment plans from A to Z and making sure patients understand what is involved and make informed decisions. Her clinical, communication and observation skills make her an invaluable part of our team! Crystal is Dr. Yuen's second pair of eyes!
Ariel Tsui
Dental Hygienist/Instructor
Ariel, our "golden hand" (a term coined by some of our patients), joined our office in 2000. She brings to our office her expertise in the field of dental hygiene. Being an instructor at the renowned George Brown College and University of Toronto, she constantly updates her patients with the latest techniques and products associated with dental hygiene. She's also the right hand woman of Dr. Yuen. She notices any abnormalities during the patient's hygiene appointment and brings those to the attention of Dr. Yuen. Therefore, our patients are sure to receive a thorough diagnosis at all times.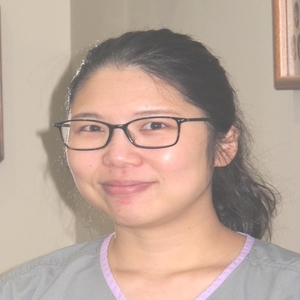 Ingrid Yang
Dental Assistant
Ingrid joined our dental family in October, 2018. She obtained her professional education in Prince Philip Dental Hospital (Hong Kong) and has been working in the dental field for over 10 years. Her passion keeps her working in the field of dentistry even after she has moved to Toronto. Ingrid's earnest personality makes her always try her best to finish all her tasks, big or small.
Vicky Li
Office Administrator/Dental Assistant
Vicky has been with us since 1993. A pillar in the office, she is one of frontline friendly voice/faces whom you talk to everyday. Vicky is always the first person in the office and the last to leave, making sure everything is looked after and helping to keep the office running smoothly.
Wendy Lee
Office Manager
Wendy has been with the office since day one and has enjoyed and contributed to the success of the office. A graduate of the University of Toronto with an honours degree in Bachelor of Science, she thoroughly enjoyed her 4 years in studying the psychology of human behaviour. Wendy utilizes her communication skills coupled with her unique personal approach in everyday dealings with the various personality types presented to our office. With Wendy in the office, there will always be laughter and just the right dose of pressure to keep the office running smoothly!!